COURSE OUTLINE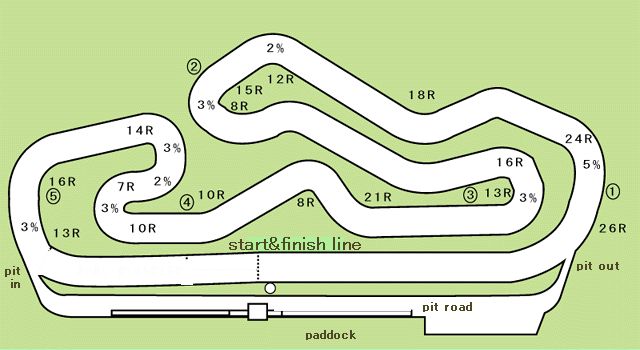 Overall length
 720m 
Facilities : Control tower, pit, rest house, air compressor, vending machine, observation deck, parking lot(accommodates 100), and radio contorol circuit.
Longest stretch
140m
Course width
8m〜10m
 
        Degrees of difficulty Five different degrees A B C D E
| | |
| --- | --- |
| | |
| The 1st corner : Aim at the pin-point line with delicate accelerator control.[B] | Drive through the chican as straight a line as possible.[E] |
| | |
| The 2nd corner : Slow down your speed sufficiently,mind acceleration a little earlier.[AA] | The 3rd corner : Drive out-in-out building up speed.[C] |
| | |
| The 4th corner : Decrease speed to turn in a small circular line and turn with a large circular line at next corner[A] | The 5th corner : Change the direction of the kart in early and go through with gathering speed.[A] |
| | |
| The last corner : Drive from outside to inside and go through with centrifugal force.[C] | The straight way : Push flat down on the accelerator and enjoy the thrill of full accelerator.[D] |

From the course keeper

Notice the course,near the exit of the second corner and S-curve,is not in good condition.
One point advice.
Attacking the 2nd corner.


It's a compound corner with a moderate curve and the course gradually becomes narrower. At the entrance of the corner, slow down using the breaks at or about inside of the course and check the direction of the kart and gather speed , make it slower enough not to go outside. Think of it as one corner and accelerate before the clip point.

To attack the 3rd corner.


Use hard breaking and leave the turn with full acceleration.

To attack S-curve.

At the first corner, slow down completely and go around in a small circular line, and at the next corner in a large circular line to go through fast.